Deciding Which Bike To Choose?
Use our Balance Bike and Trike Comparison Guide to help you determine what vehicle suits your child best.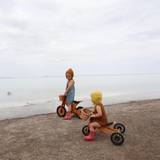 Pikler Playground Fun
Nothing says open-ended play quite like a Pikler playground!

Through exploration of the Kinderfeets Pikler gym system, children ages 1 to 5 are invited to meet new challenges and reach developmental milestones. Explore spacial awareness, balance and coordination, gross motor skills, creative thinking, and physical activity – all in the comfort of your home!

Crafted from high-quality materials and built to last a lifetime.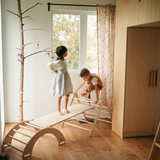 Kinderboard Creativity
Watch your child's imagination take over as the Kinderboard becomes a seesaw, balancing toy, slide, stepping stool, boat, resting nook and so much more!

Originally introduced in Waldorf and Montessori schools, wooden balance boards support children's early development – serving as a versatile and sustainable outlet for explorative free play.

Suitable for a range of activities and holding up to 220kg in the larger version, our durable Kinderboard can literally be enjoyed by anyone!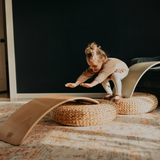 Toys That Teach
Delight your young one with our range of eco-friendly toys, designed to engage and educate. The creative play and learning opportunities are endless with our bamboo arches, pull toys, and building blocks with ABCs, numbers, and picture designs.
Beautifully crafted, Kinderfeets toys support children in developing their language and communication skills, concentration ability, fine motor skills, and hand-eye coordination. But most of all, it's learning made fun!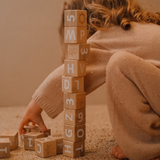 Raising Confident Children
At Kinderfeets, we believe that a life without training wheels is a life fully explored – it's a journey bravely ventured, a pursuit of freedom and imagination, and a quest for independence.

Invite your child to intuitively guide themselves towards self-assurance and accomplishment with the support of our thoughtfully designed learning toys and your gentle reassurance.

Committed to creating stylish, sturdy, and sustainable products, we're helping to foster a more vibrant and beautiful world for our children – one Balance Bike at a time.